PortugalGay.com Directory in English
is divided in several geographical zones (like Oporto Area, North, etc) and thematic zones (like Chat/IRC, Links, etc). Each section is sub-divided acording to the type of place (Bar, Disco, etc).
In the first column bellow, there is a classification by frequency. The order of the symbols is important: the first one is the majority. Places with the "Hetero" symbol first have a moirity of straigths but either have a lot of gays and lesbians (that does not mean that they are really "welcome").
In the second column, there are symbols for the type of place. The recomended ones are good starting points to find whats up in the gay and lesbian life of the city.
Frequência
---
Gay
Bi
Lesbian
Trans
Hetero
Public affection displays are welcome
Public affection displays are not welcome

Tipo
---
Recomended
Disco
Bar
Sauna
Café
Restaurant
Association
VIH/AIDS
Shop/Services
Beach
Chat/IRC

Printing
The pages in the directory and ready-to-print in most browsers, and will include thumbnails of the places in the print.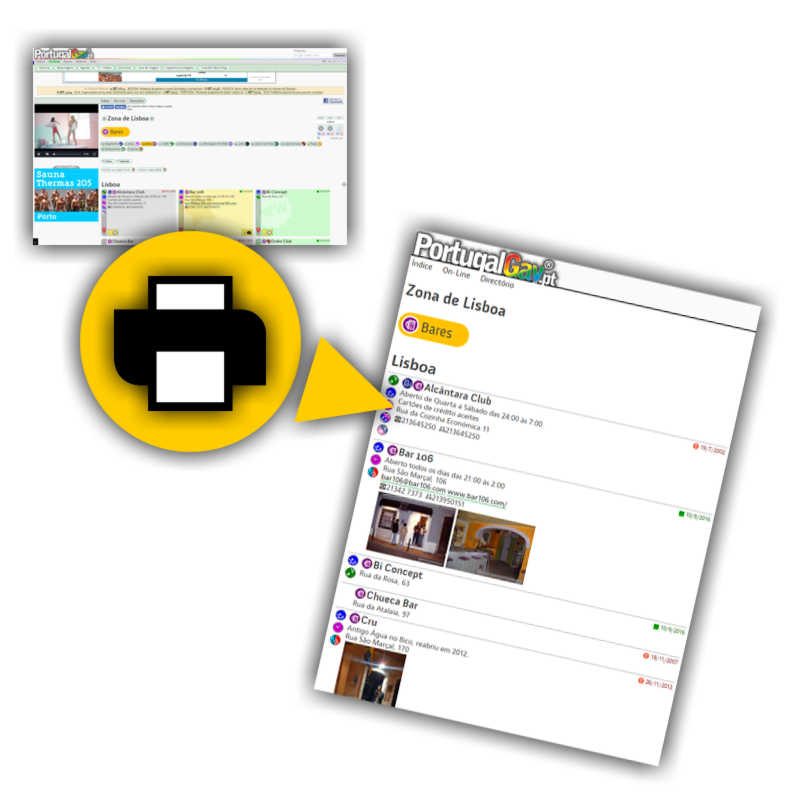 Print local maps
First show the maps, then print the page.

Print the global map
First activate the map, then print the page.